poem of the week

Naked: An Ode to William Carlos Williams

I sleep in the nude.
My sheets are a second skin.
They make love to me.
When I wake
I flex my biceps, quads, buttocks
before the mirror.
I like being naked.
I am the naked genius
of this house. I hate
wearing clothing. They chafe
and tug. They are like children
at a museum. I want
to get rid of them
so I can appreciate the art of my body.
I want to walk the streets
naked – every hooker's fantasy.
I want to suckle the breeze
on my nipples, to swing low
sweet chariot like Jesus
on the cross. I want
to be David of Michelangelo,
to sling my nakedness
at the giant sensibilities
that rule society.
But at night, sheets tucked
into my loins, cool and smooth,
I think of her, naked too
in a garden prelapsarian
and sleep the unholy sleep
of Epicurus.


by Nick Harris



about the forum
The forum is free and open to all contemporary poets. Use the registration link at the top of this page to join. If you are having difficulty please email me at

bernard.alain@netzero.net

Poets wishing to add their showcase and/or blog links should make a request to the same email address.

Gallery nominations are made by the showcase poets and selected for display by the editor of the Ink Blot at the end of each year. Poetry submitted and links submitted to the Ink Blot Poetry forum maybe removed from the forum at anytime by the member. All publication rights and copy-right are retained by the author.

Registration is free and instant, if you do no receive your activation email notice please check your 'junk mail' folder. Poets wishing to host their works in the Poet Showcases may do so by submitting their photo, a brief bios and a link to a blog (i.e www.blogspot.com) or site that provides an RSS feed. Successful candidates will be notified.
a fusion of artwork and poetry

Don Schaeffer is a Canadian poet from Winnipeg Manitoba, born in the Bronx, schooled at the City University of New York. His work as a poet is in the contemporary genre, mostly evidenced by the range of cultural praxis explored and use of free verse. Don's poetry is quite often identified by it's simplistic construction and psychographic nature of the text.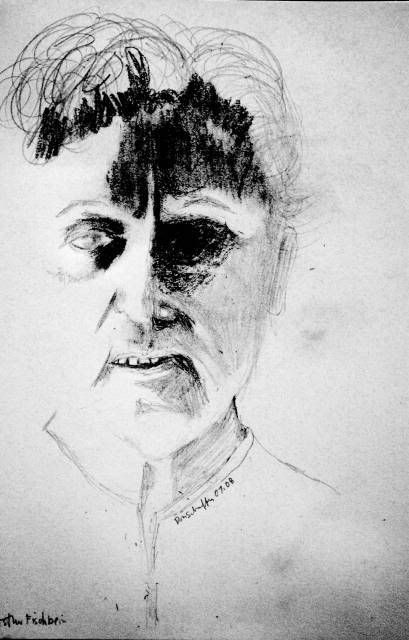 Esther Fischbein (in Memorium)
by Don Schaeffer, Canada